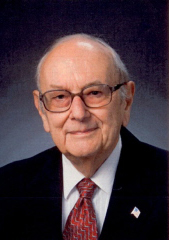 Ralph E. Peters,
Associate Principal
In Memoriam – February 20, 1923 to December 22, 2015
Ralph retired as President, CEO, and principal stockholder of Benatec Associates, a prominent engineering firm now part of Century Engineering, Inc. He was a widely known Central Pennsylvania businessman, philanthropist, and community leader who has served on Boards as their President or in another high-level capacity. Some of the associations include the Pennsylvania Highway Information Association, Harrisburg Regional Chamber of Commerce, Penn State Harrisburg, Holy Spirit Hospital, and the United Way of the Capital Region.
He was an Army veteran of World War II and the Korean Conflict, and graduate of the Pennsylvania State University in Business Administration and the University of Pennsylvania's Wharton School in Accounting. He won over 25 awards during his lifetime for his unselfishness in serving his community. His willingness and ability to help others achieve their goals is demonstrated by his own business endeavor and his willingness to serve others, including the less fortunate.
He was instrumental in bringing me back to Harrisburg, PA and while Bob Morrison was in Tucson AZ helped Creative Technology and Management Services, LLC get set up with a professional brochure and get certified as a business with the Department of State in Pennsylvania.